So, I have some wedding style blogs in my RSS reader because I like to look at pretty pictures.  Sometimes, those blogs will post bridal photos from the dress makers and the amusement value of those is through the roof.Let's go through a few, shall we?
What the hell is this pose? Seriously, no one stands like that naturally. What does this dress say to you? Is the model starving and the photographer caught her in the throes of hunger pangs? Maybe the dress hurts to bad to wear that she has to stand like that to alleviate the pain in her hips?
This one is actually by the same designer as my dress. It says to me.. emo bride has a breakdown in the dressing room and staples her hand to her forehead.
Oh, just want I wanted.. bridal armpits. Are her pits smelly? Did she sleep in the dress and she's waking up to stretch? I dare her to walk to the altar just like this.
Undead zombie bride will eat your soul.
It's a shame this setting is so natural for this android bride who is having trouble keeping her prosthetic arm attached. She just has to hold it there.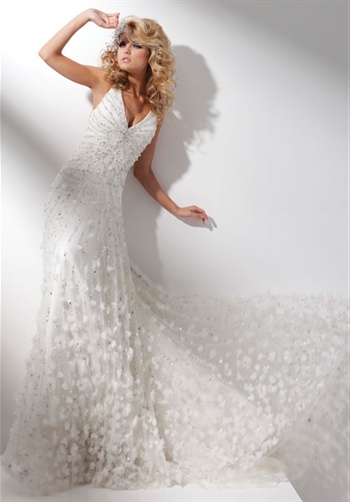 This dress is so bright, she's got to wear shades…
I don't know about you, but I ALWAYS grab my hip and butt. Maybe she's having the same body-parts-falling-off issues. Plus, the duckface. Quack!