I have a husband! Here are some photos of the day from various guests, we'll get the pro photos back in 4 weeks or so! I asked people not to take any photos through the ceremony, so until we get the pro photos back, I have no photos of it!
The wedding day went very well, barring a few rough spots. I felt HORRIBLE the day before. I'm pretty sure it was just nerves, but I didn't feel nervy fidgety, but my belly had other plans. Finally got to the venue mid-afternoon the day before, but was still feeling awful. I went to dinner with my mother the night before and she ordered potato soup, which sounded so good that I got some too. I started eating it and I nearly cried all in it out of gratitude for my mother.. it was EXACTLY what I needed. I ate half of it there and the rest of it sitting up in bed the hotel later.
The morning of, I woke up at about 6:30am just remembering everything I'd forgotten. Sand for the centerpieces, batteries for the tree branches, ice and cups for the bar.. it was crappy.. I just wanted to sleep. I got some fruit and sat in bed until John woke up, and then we got going to the venue. The weather was PERFECT. It was barely chilly, 0% chance of rain.
My AMAZING step-sister-in-law was already there and waiting on us, and she just totally took over for me and had everything in hand. She made an amazing day-of manager. Everything I turned around to do, she already had handled. It was so easy. I spent the morning flitting from task to task, but it was amazing to see all of my plans just.. happening. I said this is where I wanted the table.. and then next time I turn around they're all covered and centerpieces are being made. I wanted the crane 'chandelier' in a tree and I come back a few hours later and it's being hoisted up, finished.
The crane 'chandelier' actually was supposed to be a circle, but as it went up the heat of the sun and the weight of the cranes actually pulled it into a wave shape, which looked even more amazing than the circle!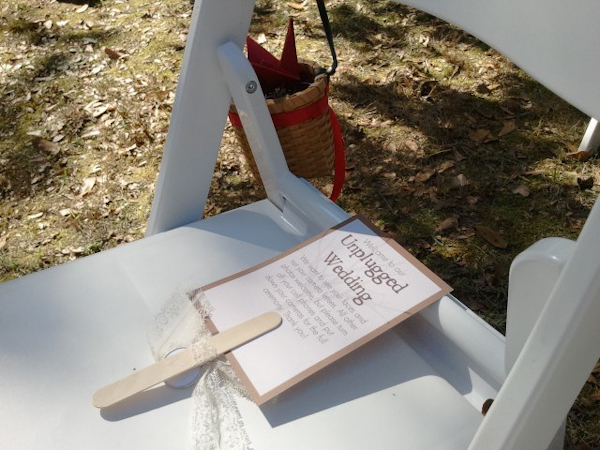 It really got real when I stopped doing prep work and I went to go get my hair and makeup started. I was sitting there getting makeup on and the photographers showed up. OMG, I had such a hard time not paying attention to the cameras. Suddenly, the day really was all about me, and I felt a bit of stage fright. They were there and I was the BRIDE. I was getting my hair done next, then into the dress and down for my photos with John. There was no time to really stop and just take it all in.
I got my dress on with the photographer in the room, but I was turned around so I didn't see him at all. I think my favorite moment right then was that my mother and Christine laced me into it while my sister was building boutonnieres behind them. I got all ready and then the photographer told me to wait while he got John all set. I got to wait about 10 minutes, then he comes back and says "Okay, it's time to go. He's all set and waiting for you." Oh gosh, I started getting teary right then. He was waiting for ME. I came down the hallway and out the front door, and there he was, back turned to me. I was told the stop about 6ft away and to wait. He turned and looked at me after a few minutes and suddenly we were there. I was a bride, I was getting married.. oh and I was crying. Yep. I smooched him and cried all over. He was totally clear eyed, and I admit that I was disappointed that he wasn't as blown away by me as I was by him.
We did formal photos right after. The best part was that the venue owner's dog had left a GIANT pile on the lawn. I mean, here we all are in wedding finery and there's a huge pile of poop less than 10 feet away. While we were finishing photos, we had a few guests showing up, so we rushed through the remainder of them and swept back into the house. I hid in the room until it was time to put my veil on and got get married. The veil actually had to go in sideways because the maker had made it so the short sides were on the sides and it looked so much cuter with the short part up front.
It was time then, so I stayed behind with my dad while John and all the men and maids walked up the aisle. He and they all walked down to 'Back in Black'. Uh-huh. I didn't even get to see any of it because I was hiding from John so he didn't see the veil. Christine's story from the day was the best ever. She says "I didn't know we were going to be doing the wedding march to Back in Black! I'm not sure I can pull this off…" Chris, the groomsman behind her replies "Well, you're going to have to either stay here or rock it!" After that, it was myself and my dad. I have no idea what the DJ played for my walk. I just told him to pick something that would follow back in black pretty well.
I did my walk, dropped my father off in his seat, and got up there. My almost-bridesmaid Robyn was there and I gave her an air smooch on the way down. Her was abut the only face I saw because the veil caught the sun and I spent the entire ceremony being able to see out of only one eye. 😛 I was shockingly clear, though. I thought I was going to sob all over, but I was joyous and airy, it was John that was crying. Mom gave me a hankie to use, but it was him that ended up needing it! My dad broke the tears a little though.. when it came time to wrap the cords around our hands, dad forgot he was supposed to get the cord from either Megan or Christine, so he was untying the decor on the back of the chair instead! As each parent came forward to tie our hands, each said something quietly to us. It was so sweet. After rings and another tear wipe for John, he lifted the veil and gave me my kiss. We walked back out to 'Your love is lifting me higher" which made me feel so good!
Once we got back inside, John discovered that he left his boots for the first dance… in the hotel room. We had to send his amazing brother back for them, so our poor guests were waiting for the first dance for about 20 minutes. Bad bad bad. We finally got out there though, and all of our dancing practice went straight out the window. My shoe fell off, I screwed up the steps.. thank goodness John was comfy in his boots.
From there, the night was a bit of a blur. Moving back and forth from guest to guest.. I feel like I didn't get to talk to anyone more than 10 minutes. The cranes all lit up perfectly as the sun set. I had to get my sister to unlace the dress a bit because I just couldn't breathe. The LED branches were amazing on the tables. No one took any of the birdseed favors. I didn't get a cupcake at all (just never got to it!). I did the top elevator part to the Gangnam Style dance. One of our guest families got sideswiped by a tractor-tailor on the way there, but they were thankfully all fine. My dress kept getting longer and longer all night.. I think the bustles were falling out a bit.
It was about an hour to our departure time and I was just ready to go. Tired, breathless, people were leaving.. I was just done. I informed the DJ and Nicole that we'd like to go early. We left to a cloud of bubbles.. right after John stepped on my dress. It's got a fab boot mark right on the side. 😛 I actually love that boot mark. SO us.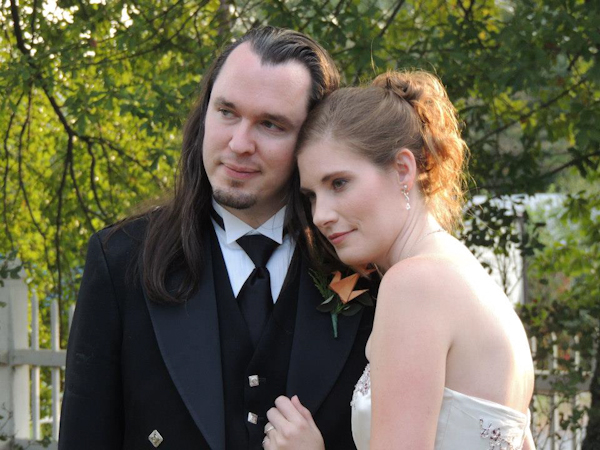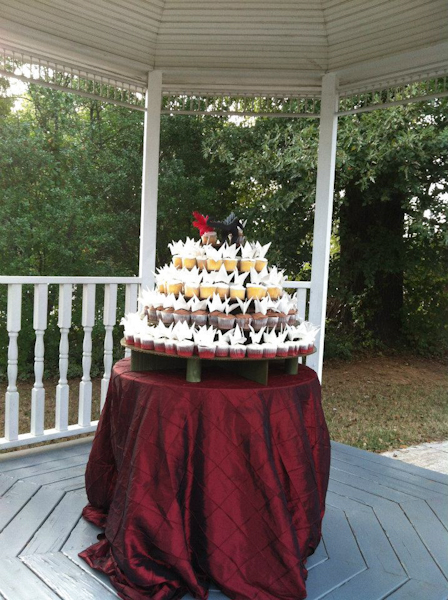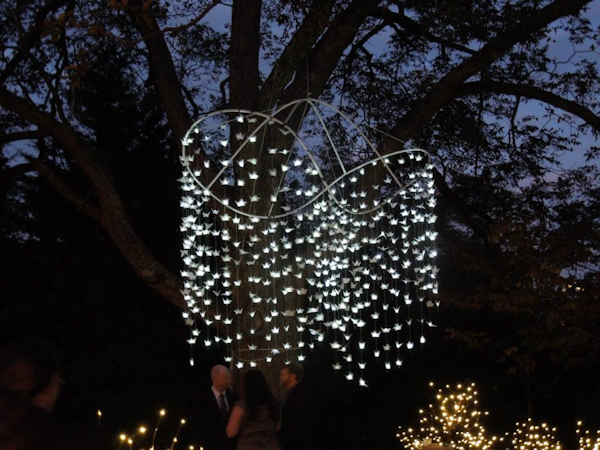 I snapped this one with my cell phone in the hotel after we got back. I still felt beautiful.